Health, Safety, Quality and Environment (HSQE) form an integral part of our management procedures and we have established an Integrated Management System that is certified to OHSAS 18001:2007, ISO 14001:2004, and ISO 9001:2008.
Health and Safety Policy
Our primary aim is maintaining and further developing a first class safety culture within Bains Civil Engineering. The Company is fully committed to achieving zero injuries, zero cases of work related ill health and zero dangerous occurrences. One of the key objectives within our Company is to create a culture of continuous improvements.
Bains Civil Engineering remains focussed on developing a positive and proactive health and safety culture, not only for our own employees, but also for our clients and sub-contractors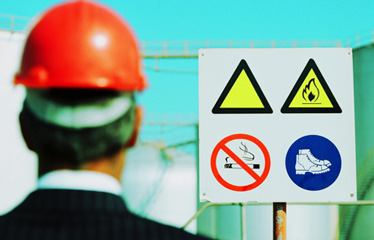 Bains Civil Engineering complies with the requirements set within the Health and Safety at Work Act 1974. Health and Safety is at the heart of all we do and we are committed in achieving our goal of zero occurrences. We are fully devoted to ensuring that the Company has adequate resources, information and training to ensure that its workforce can deliver the aim of continuous improvements at all times.
Performance is inspected against the objectives that have been set within the Company and will comply with all current legislation. The findings will be conveyed to the company workforce and reviewed on regular basis with any proposals for continuous improvement of the standard required.
Further information on our Health and Safety Policy can be obtained by contacting us
Environmental Policy
Bains Civil Engineering is committed to excellence in all aspects of its business. This includes environmental protection, which is considered an integral part of our operations.
Bains Civil Engineering regards Government legislation and our company policy as minimum standards, which should be improved upon wherever it is reasonable to do so. We recognise that environmental protection is essential to the well being of staff, the local populace and the natural habitat of wildlife and will do our best to protect them. We also recognise that our day-to-day operations impact on the environment in a number of ways and wish to minimise the potential harmful effects of such actions wherever and whenever this it practicable.
We will endeavour to ensure that the company's activities are safe for employees, sub contractors, clients and others who are, in any way, involved in our work.
We accept that we have a duty of care as producers of waste to ensure that waste is minimised in all parts of our business and that those acting on behalf of Bains Civil Engineering for waste disposal are competent to do so, discharge their own duties correctly and are able to prove this by means of the appropriate documentation and checks. We have adopted a policy to ensure that we recycle waste whenever it is reasonable to do so.

We encourage our suppliers and customers to adopt the best possible environmental practices and will communicate our policy as appropriate to customers and suppliers. In adopting this policy, Bains Civil Engineering commits to the provision of the requisite resources, priorities and training to fulfil its obligations. In commending this policy to employees, customers and suppliers, Bains Civil Engineering seeks to encourage a full sense of shared responsibility for the protection of the environment.
On this basis Bains Civil Engineering is committed to the protection of the local environment and to achieving and improving environmental best practice throughout its business activities by:
Ensuring the company's activities are safe for employees, sub contractors, clients, suppliers and others who come into contact with our work.
Recognising and accepting a responsibility for contributing to the protection of the global environment, and being committed to the principal of sustainable development.
Monitoring purchasing practices and internal operations, including energy and transport to ensure best use of natural resources and minimum environmental impact.
Minimising the waste produced in all parts of our business.
Monitoring and working with our suppliers and other third parties associated with our business and setting them similar high standards.
Seeking to integrate environmental considerations into future business policy decisions.
Ensuring associates understand and are accountable to these policy goals through communication and training.
Communicating the policy as appropriate to customers and suppliers.
Developing systems to implement and review this policy.
Complying with relevant environmental legislation.
Working to improve effectiveness of our environmental management.
Using energy efficiently throughout our operations and supporting the efficient use of electricity.
Re-using and recycling wherever possible.
Further information on our Environment Policy can be obtained by contacting us.
Quality Management System
A documented Quality Management System has been produced and applied within Bains Civil Engineering. In addition measures have been taken to ensure that this is understood, communicated and effectively maintained in order to meet the requirements of the Quality Management Standard BS/EN/ISO 9001:2008.
Quality Processes
Our Quality Management System relies on the eight quality management principles contained in ISO 9001:2008 to enable a continual improvement of our business, our overall efficiency and to make us capable of responding to customer needs and expectations. These principles are listed as follows:
Customer focused organisation: – depends on our customers and is committed to understanding, anticipating and responding to every customers requirements with product and service excellence.
Leadership: – Leaders establish unity of purpose and direction, and create an environment in which people can become fully involved in achieving objectives.
Involvement of people: – have created an environment, which makes every employee a team member and encourages participation in achieving our goals.
Process approach: – The desired result is achieved by relating resources and activities to managed processes.
System approach to management: – Identifying, understanding and managing a system of interrelated processes for a given objective contributes to the effectiveness and efficiency of the Quality Management System.
Continual improvement: – Continual improvement is a permanent objective of the Quality Management System.
Factual approach to decision making: – Effective decisions are based on the logical and intuitive analysis of data and information.
Mutually beneficial supplier relationships: – mutually beneficial relationships between this company and its suppliers enhance the ability of both organisations to create value.
Further information on our Quality Management Systems can be obtained by contacting us